8

min read
OK, we've pushed the brief a little here. But why choose just one camera?!
The Insta360 ONE Series includes Insta360 ONE X2 and Insta360 ONE RS, two of the best motorcycle cameras out there! ONE RS is super flexible, with interchangeable 360 and wide-angle lenses, while ONE X2 is a powerful, pocket-sized cam, specializing in 360° capture.
Both cameras can shoot in super high res 5.7K 360°, as well as regular single-lens capture, so versatility is a given. Add to that a whole bunch of awesome motorcycle mounts and you're on track for some unreal motorcycle videos. Check out the shots below to see why Insta360 ONE Series cameras should be the go-to for your next ride!
First, a word on reframing and invisible selfie sticks!
Reframing is one of the coolest parts of shooting with a 360 camera. If you're not sure what that is, it's basically changing where the camera is facing to show off different angles within your video. It's super easy to do when editing in the Insta360 app or Insta360 Studio. You'll see plenty of examples in the shots to come but here's an idea for starters:
Another thing you'll notice is a distinct lack of selfie sticks, extension poles, or rods. That's because Insta360 ONE Series cameras automatically remove them from the shot! Hence the clean, third-person views you'll see throughout. 
Motorcycle Camera Shot #1: Front Shot
Let's start with the big guns. For this one, just mount your camera to the front of your bike. This can be done using the extension rods and mount pads in the Motorcycle Mount Bundle. Insta360's legendary FlowState stabilization technology smooths out the shakes for a super steady shot.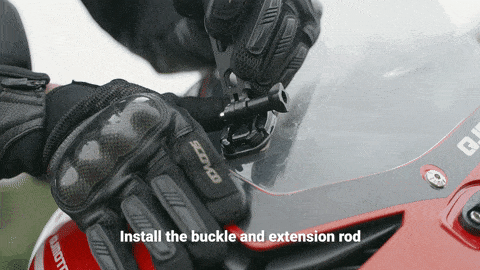 Motorcycle Camera Shot #2: Tail Shot
Using the same gear as the front shot, you can get this MotoGP style shot. And thanks to the easy reframing mentioned previously, you could also use this mount to get shots of the view behind the motorcycle too!
Here's how we mounted ONE X2 on the tail. The same can be done with ONE RS.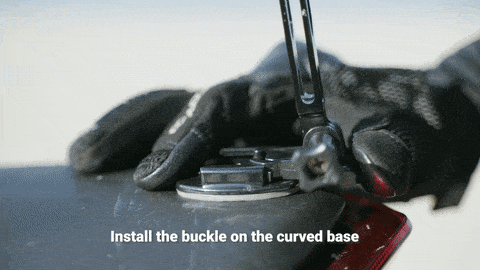 Motorcycle Helmet Camera Shot #3: Unicorn Shot
Of course, the helmet is a prime mounting location and a favorite accessory for this is the Unicorn Mount. Perfect for capturing epic first-person views, as well as cool, forward-facing shots. Just mount the extension rod on your helmet, then reframe in the app later.
Here's how to mount ONE X2 on the helmet to get the above shot:
Motorcycle Camera Shot #4: Handlebar Shot
The versatility of Insta360 ONE Series cameras is a big part of what makes them the best camera for motorcycling. Not only can you mount them in unique positions, but you can also capture angles that regular action cams aren't capable of.
Here are two different shots achieved by mounting directly to the handlebars, either facing out to the side or straight up.
Here's how we mounted the cameras for these shots. Just reframe in the app afterward to choose your angle.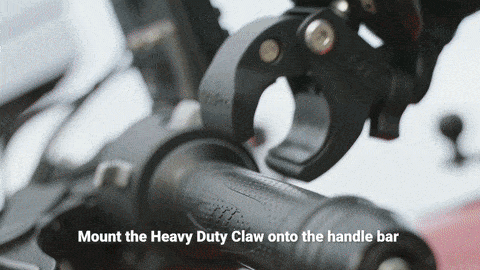 Motorcycle Camera Shot #5: Chest Mount Shot
With ONE Series cameras, you get the best of both worlds. All the impossible 360 shots, plus traditional, single-lens motovlog capture. ONE RS has the edge on this front though, with the option to shoot with the 4K Boost Lens, or even the 5.3K Wide Angle Lens with a 1-inch sensor!
This one was done using ONE R in the Chest Mount (included in the Bike Bundle).
Motorcycle Camera Shot #6: Back Bar Shot
Time for some fun here with the "video game" view. All you need is the back bar to pull this one off. After that, it's just you, your bike, and the open road!
Here's what the back bar looks like. It's the invisible selfie stick mounted to a belt that you strap nice and tight around your waist.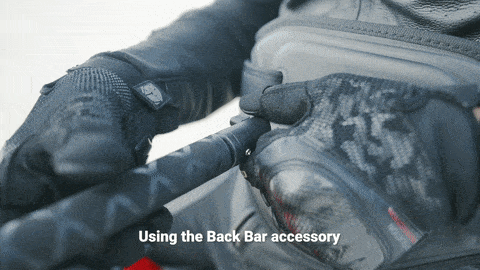 Motorcycle Camera Shot #7: Wheel View
Last but not least, let's take it down low for the wheel shot. A great angle to include to give an immersive feel to your clip!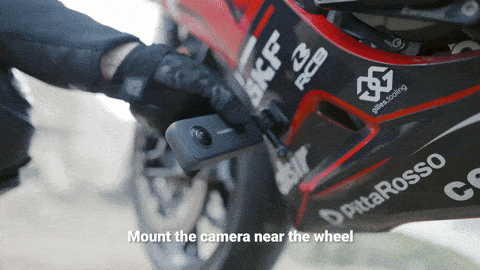 Wow… there are more options than we even realized! And these shots are just a glimpse of what YOU can do with a ONE Series camera.
If you need some help choosing between ONE X2 and ONE RS, check out this useful comparison article. Incredible motorcycle shots await! 
But, if you've made up your mind already, don't miss our Motorcycle Sale! For a limited time only, you can get US$45 off the ONE X2 or ONE RS Motorcycle Kit.
---
To find out more interesting ways 360 cameras are being utilized keep an eye on our blog.